WHY HIKE KIJABE HILLS?
First, the Kijabe hills offer amazing views and scenery. We enjoyed looking over the running hills. Greenery and Waterfalls.
Second, it has better vegetation than Sleeping Warrior or Longonot so you'll be protected from the harsh sun. Third, you get to exercise, meet people and experience a different scenery away from Nairobi and meet people you can hike with in the future.
GETTING TO KIJABE HILLS
We left departed for Kijabe hills at 5:50 AM and got there around 2 hours later. The ascent was flat and with little hiccups. The same cannot be said for the descent.
THINGS TO KNOW ABOUT KIJABE HILLS HIKE
1. YOU'LL NEED TO ABSEIL IF YOU USE THE RIVER LINE TRAIL
According to the Oxford Dictionary, to abseil is to descend a rock face or other near-vertical surface by using a doubled rope coiled around the body and fixed at a higher point. You can choose to abseil the waterfall and reduce your descent considerably. Or you can decide to hike around the waterfall and not abseil if you're afraid of heights.
However, you'll not escape abseiling as the river line trail gets a bit steep and you'll have to descend with a rope at some points within the trail. Either way, it's best to brace yourself if you plan on hiking the Kijabe hills using the river line trail.
Here are abseiling Instructions the guide gave:
Hold the rope and lean back so much that you can see your legs and the guide can feel your weight on the rope and control how far you go down the rock surface.
Spread your feet wide on the rock surface.
Focus on the rope, your feet, the rock surface and the next steps.
Don't look down.
Make sure your feet stay planted and walk down the rock surface else you break your knees
Well, when it was my turn to abseil, I checked out and was ready to use the alternative route which had been a bad decision. The guide convinces me to abseil and I do. A quarter way through abseiling, the waterfall surface stops collaborating. The gradient of its wall is not built for hikers to abseil all through as the surface turns inwards and is covered with algae and lichen. This means that quarter way into abseiling, you'll start free falling only to abseil when you approach the base and the rock starts collaborating. My first mistake was looking down to see the distance I had to cover which did not help with my anxiety.
All the girls I hiked with free fell when the rock stopped collaborating. Whatever you do, don't release the rope, lean back so that your weight informs the guide.
Here's a video of me abseiling on my Instagram page:
Here's what Rioba had to say on her Instagram stories about our Kijabe experience:
MAUMAU CAVES
We had the opportunity to see one of the Mau Mau caves. It's a few kilometers away from the Waterfall and not easy to access. The cave is now used by Campers and there were traces of fire.
HERE ARE IMAGES FROM THE KIJABE HILLS HIKE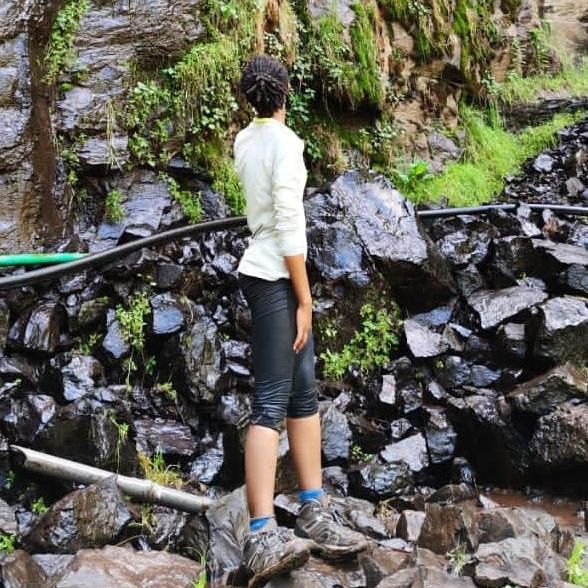 If you're thinking about a Kijabe hills hike, I'd, like Just Rioba recommend you use another trail and look for a safer abseiling experience. The path after abseiling is not safe and not for beginners. Do your research before you go out there.